If you're a Banti user, you already know how easy it is for you and your clients to use. With it's carefully planned, functional, and fine-tuned interface, we hope that you barely notice the steps you go through while working on your albums.
Note: If you don't have a Banti account, signup takes just a minute!
We put a lot of effort into creating the best possible user experience so that we can help you have happier clients and we're grateful for the great feedback we've been getting from our customers.
Thank you!
Most Recent Updates to Banti
Here are some of the most recent updates we've made based on your feedback.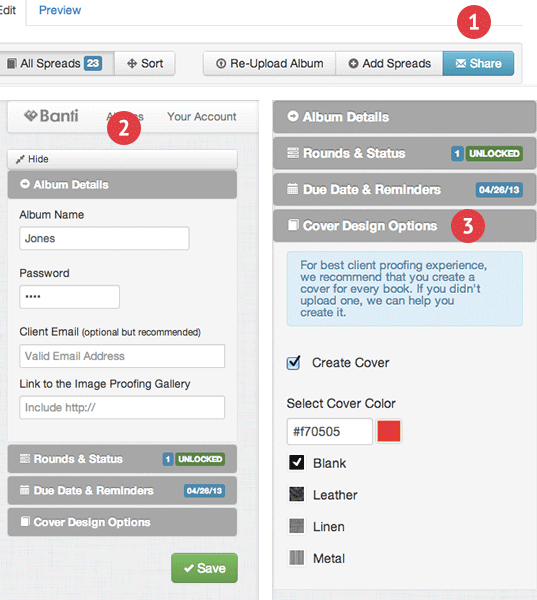 Now you can share the album with your clients directly from the Edit screen. 

Album details and settings have been completely redesigned and re-organized in more meaningful sections.
A new feature allows you to generate album covers on the fly.

We strongly believe that your clients' experience with the digital proof should be as close as possible to the real thing, which is why we highly recommend that all your designs feature an actual cover. But what if your books don't have photos on the cover? Using this new feature, you can create a generic cover in any color you want with one of the following textures: Blank (solid color), Leather, Linen, or Metal. (We're pretty stoked about this too!)
Share Your Banti Experience and Save on Renewals
To keep making Banti even better, we need more feedback from professionals like you. Spread the word about Banti and we'll reward you for it.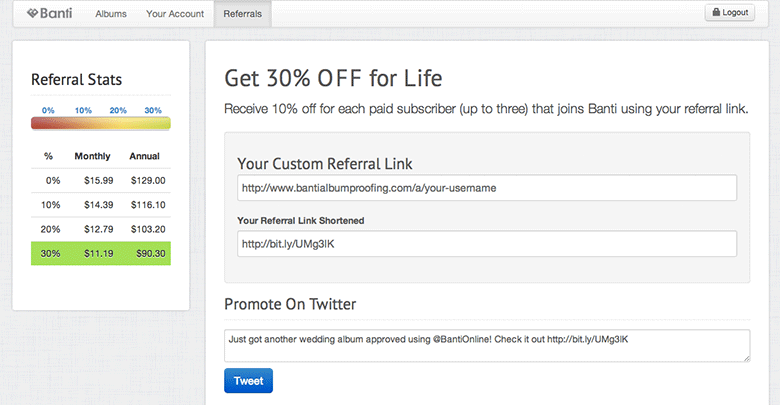 As a Banti user you get a unique URL that you can use to let other wedding photographers know about your experience with Banti. Every time someone uses that link and becomes a paid Banti subscriber, you get 10% off your renewal fee (up to 30%) for as long as your Banti account is current. This means more savings for you and more feedback for us.To find out more and to get your own custom link,
log in to your Banti account, and click the "Referrals" tab.